August 10-16 2003
INTERNATIONAL CERAMICS COURSE
To be held during the week of the 2003 Pecos Archaeological Conference in Nuevo Casas Grandes, Chihuahua, Mexico.
No previous pottery experience required.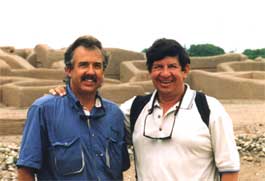 This one-of-a-kind combination course with Gregory S. Wood and Julian Hernandez focuses on both Mesa Verde Black on white and Mata Ortiz/Casas Grandes styles of pottery making.
The Mesa Verde segment utilizes ONLY native materials and a prehistoric approach to pottery making. It covers replication of a Pueblo III Mesa Verde Black on white organically painted pottery mug. Participants will hand form, burnish, decorate and trench kiln fire using only prehistoric methods. See our other workshop descriptions for information.
The Mata Ortiz/Casas Grandes segment focuses on the ancient pottery of the Casas Grandes region of northern Mexico as a basis for contemporary pottery production. Participants will gain insight into the fundamentals of craftsmanship, design and technology that are required in creating and firing Casas Grandes/Mata Ortiz style pottery*.
Participants will meet at a motel in Deming, New Mexico for an evening orientation meeting and then car caravan 3 hours south to Nuevo Casas Grandes, Mexico the following morning. Our group will be met at the border by instructor Julian Hernandez and then be escorted to Nuevo Casas Grandes.
*For greater understanding this workshop is designed as a study of both pottery and culture. It will be a hands-on exploration to compare and contrast the similarities and differences between prehistoric Mesa Verde and Casas Grandes pottery.
Enrollment: Limited to 20 students.
Fee:
Deposit: Must include signed registration form.
Includes: All materials, firings, field school instruction and field trips to Mata Ortiz pottery village (the home of world famous potter Juan Quezada), native clay sites, Paquime Archaeological Area, other points of interest, and the Museo de las Culturas Norte (Museum of the Northern Cultures). Also includes a custom workshop T-shirt for each participant.
Instruction is in English and Spanish. Meals and lodging are not included. Register and book lodging early as hotels will fill up fast for the Pecos Conference!
Border Compliance and Lodging information click here