Back
Home
Next
About The Artist
Gregory Wood, BFA Ceramics, ArchćoCeramist™, art educator and recipient of the 1997-1998 National Park Service Award of Interpretive Excellence has worked with clay for forty years. As a fifth-generation Colorado native, his ongoing work and research with archaeologists, museums, and on-site in the nation's Four Corners region have taken on special meaning. He blends his intense interest in archaeology with ceramics, producing "true", near flawless pottery replicas that speak for themselves. A strong commitment to using only prehistorically available native materials, tools and techniques has earned him a reputation for archaeological authenticity. He works without the benefits of metal, commercial materials, modern equipment or fuels. His research has led him to remote locations in the American Southwest, Mexico, Central and South America and Puerto Rico, tracing the origins of ancient pottery making in the new world.
His research with the Clay Technology Lab at the Stanford University Archaeology Center has expanded his interest to the Neolithic ceramics of the 9000 year old archaeological site of Çatalhöyük, Turkey. This collaborative opportunity was made available in part by then center director Ian Hodder.
He buys nothing...everything is hand-gathered from the earth.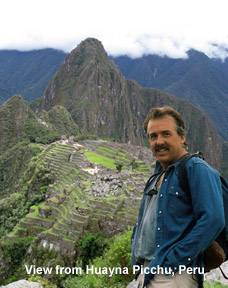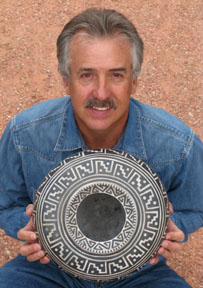 To insure accuracy in his work and to maintain the integrity of ancient tradition, each numbered piece is made as closely as possible to the original in every way. Wood is widely recognized for his skill, passion and dedication to such painstaking standards. As an ethical alternative to owning artifacts, desire for his work has created a collectible market that helps preserve our threatened archaeological heritage. Through his interpretive exhibits, workshops, colleges courses and pottery making he spreads his message of protection and preservation.
He has shown, lectured and taught throughout the U.S. and abroad. He has been been featured in numerous books including; Fossil Legends of the First Americans and La Nueva Ceramica de Paquime. His interpretive exhibits and credits include; Stanford University, Escuela National de Cerámica (National Ceramics School), Jalisco, Mexico, National Center for Atmospheric Research, Canyonlands National Park, the Anasazi Heritage Center, the Maxwell Museum of Anthropology, Casa Chihuahua Centro de Patrimonio Cultural Museum, Chihuahua, Mexico and the National Geographic Explorer television documentary entitled "Looters!" His work was first curated by the National Park Service in 1997.
Exhibition Poster Marygrove College - Detroit MI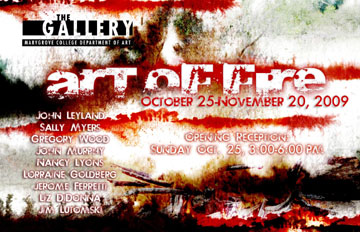 Purchasing a piece of Ancient Arts® Pottery helps to continue research, education and preservation efforts.