Home
Up
Next
Explore the timeless legacy of ancestral Puebloan pottery at Crow Canyon Archaeological Center, Cortez Colorado.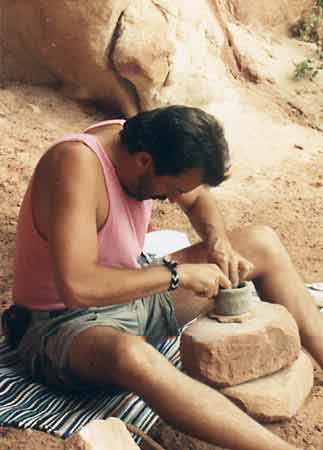 June 23-29 2002
OF ANCIENT HANDS:

A MESA VERDE BLACK ON WHITE POTTERY WORKSHOP
SOLD OUT!
Come to world renowned Crow Canyon Archaeological Center* in the American Southwest's spectacular Four Corners region and immerse yourself in this in-depth, hands-on week of authentic ancestral Pueblo Indian pottery replication. Using only native materials that were available to prehistoric peoples, create exquisite pieces from the earth and discover what we now know about this lost art. Gregory S. Wood and Paul Ermigiotti share with you their research, expertise and perspectives on the total process, including: clay deposits, tempers, slips, tool making, vessel building and designs, vegetal and mineral paints, kiln construction, and firing techniques. Expand your knowledge of the pottery styles and techniques specific to this remarkable region and it's people.
Fee: includes tuition, materials, all meals and shared accommodations.
(Crow Canyon's New Year Special does not apply to this program)

For more Information or to register contact: www.CrowCanyon.org ,call 1-800-422-8975, ext. 146

*Crow Canyon Archaeological Center is located in Cortez, Colorado near Mesa Verde National Park .