Back
Home
Up
SPECIAL EDITION SUMMER WORKSHOP 2020

Crow Canyon Archaeological Center and Ancient Arts® Pottery presents:
A STUDY IN CLAY: ANCESTRAL PUEBLO POTTERY WORKSHOP
May 31 - June 6, 2020 (Cancelled for 2020 due to COVID-19)
held at Ghost Ranch Education & Retreat Center, New Mexico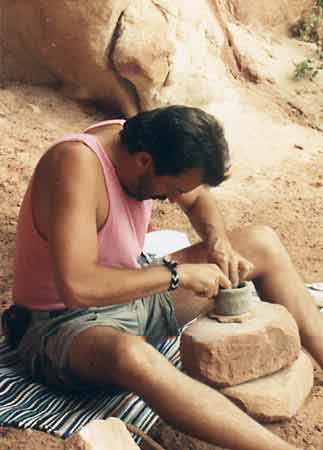 Come join Crow Canyon Archaeological Center and explore the glorious world

of Ghost Ranch, in the heart of Abiquiu, New Mexico, as you immerse yourself in an in-depth, hands-on week of authentic ancestral Pueblo pottery replication. Using only native materials and tools that were available to prehistoric peoples, create exquisite pieces from the earth and discover what we now know about this lost art. Gregory Wood and Nuevo Casas Grandes potter Julían Hernandez will share with you their research, expertise and perspectives on the total process, including: clay deposits, tempers, slips, tool making, vessel building and designs, vegetal and mineral paints, kiln construction, and firing techniques. Expand your knowledge of the pottery styles and techniques specific to this remarkable region and it's people.
For more Information visit: Crow Canyon Archaeological Center
To register:
Call: 800.422.8975 ext. 457
E-mail: travel@crowcanyon.org

Explore the timeless legacy of ancestral Pueblo pottery
at Ghost Ranch, Abiquiu, New Mexico...