Back
Home
Up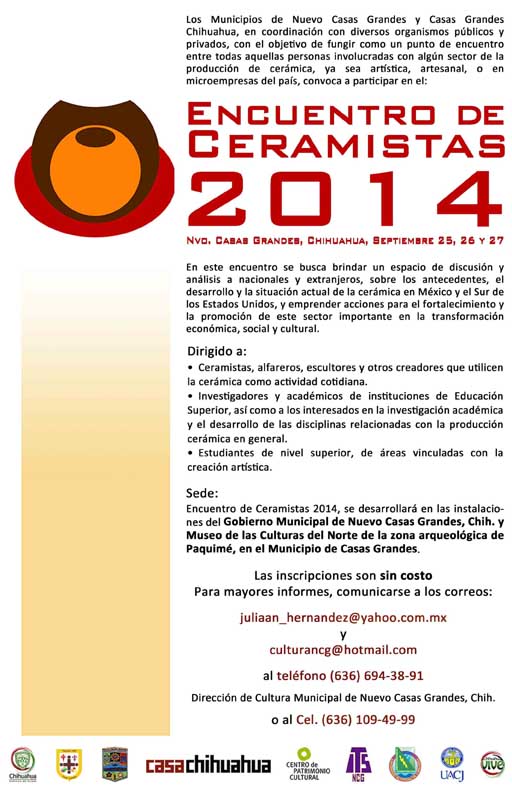 MEETING OF POTTERS 2014
September 25 - 27, 2014
Nuevo Casas Grandes and Casas Grandes, Chihuahua, Mexico
The Municipalities of Nuevo Casas Grandes and Casas Grandes, Chihuahua, Mexico in coordination with various agencies public and private, in order to serve as a point of contact between all those involved with some production in ceramic sector, be it artistic, artisanal, or in micro-enterprises of the country, invites you to take part in the: Meeting of Potters.

This meeting seeks to provide a space for discussion and analysis to national and foreign, on the background, development and the current situation of the ceramic in Mexico and the Southern United States, and actions for the strengthening and promotion of this sector important economic transformation, social and cultural.

Target audience:

Ceramists, potters, sculptors and other artists who use ceramics as a daily activity.
Archaeologists, researchers and academics in higher education institutions, as well as those interested in academic research and the development of the disciplines related to ceramic production in general.
Students of higher level, fields associated with ceramic artistic creation.

Headquarters:

Meeting of Ceramists 2014, was developed in the facilities of the Municipal Government of Casas Grandes, Chihuahua, Mexico and the Museum of Culture of the North at the archaeological site of Paquime, in the municipality of Casas Grandes, Chihuahua, Mexico.

Registration is free of charge but needs to be made in advance via mail in application.
See contact information above.