Ancient Arts® Workshops
Our 19th year!
Explore the timeless legacy of ancestral Puebloan pottery...in the heart of Southeast Utah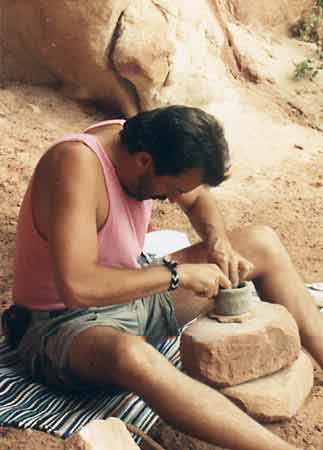 Anasazi Pottery at Edge of the Cedars State Park Museum:
ANCIENT CULTURE THROUGH POTTERY™

June 6-11 2011
This in-depth and intensive workshop, held at the incomparable Edge of the Cedars State Park Museum, Blanding Utah, explores ancient ancestral Pueblo (Anasazi) pottery tradition...at the source.

The premier workshop in the series of unique En Pleine Aire Pottery™ (open air outdoor workshops) by Gregory Wood . It covers the evolution and replication of Pueblo III Black on white, organically painted pottery and introduces corrugated gray ware. Working within the context of the archaeological model, participants will prepare materials, mine and process native clay, make tools, hand form, burnish, yucca brush decorate and trench kiln fire, using only prehistoric methods.* Participants will gain an understanding of this ancient culture and the fundamentals of craftsmanship, design and prehistoric technology that are required in creating and firing ancestral Puebloan pottery.

This is so much more than a pottery making workshop. The rich archaeological heritage of this area provides an interesting laboratory within which to examine what we know about the past and gives us insights into how people lived, adapted to their surroundings, and changed through time. The workshop will culminate with an on-site group trench kiln firing, conditions permitting.** Instruction in English and Spanish
All pottery tools and materials will be provided.

ED 589 College Credit: 3 SEMESTER HOURS GRADUATE CREDIT ARE NOW AVAILABLE FOR THIS COURSE
Note to Teachers: The interdisciplinary nature of this course will enable K-12 teachers to develop meaningful standards based lesson plans. Through authentic experiences and inquiry-based projects, teachers will learn to make relevant connections between art, archaeology, science, cultural content and their own classroom curriculum.

What do former students say about this workshop?

Open to all skill levels. No previous pottery experience required


Enrollment: Limited to 15 participants.
Includes: Instruction, all materials, firing, workshop booklet, archaeological ruins tour, Edge of the Cedars museum behind the scenes pottery archive tour and field trip to mine native geologic clay. Bring your own lunch and beverage daily.

Lodging: A wide variety of motel lodging possibilities are available in and around the Blanding, Utah area. You are certain to find something that will fit your needs and budget. Visit http://www.utah.com/lodging/result456.htm for more information.
Camping: is not allowed at workshop site but is available nearby in and around the Blanding, Utah area. For more information visit http://www.utah.com/database/campgrounds/?id=45
For additional information contact: http://www.blandingutah.org/ or http://www.bluffutah.org
Got a Group? Contact us for rates.
For further information email: info@AncientArts.Org
*Prehistoric pottery replication is not an exact science, therefore specific results cannot be guaranteed.


**If firing is cancelled due to weather, fire bans or dangers, instructor will fire and ship pieces at a later date for cost of shipping.


Student pottery from workshop in 2000